Invitation Letter of the 46th Shanghai International Furniture Production Equipment and Woodworking Machinery Exhibition
Time:
2020.9.7-2020.9.10
Venue:
National Exhibition and Convention Center (Shanghai Hongqiao) 7.1 Hall D39
Activity process:
1. On-site sign-in wins free
All customers who register at the scene can get a free coupon for the Haixun mobile APP & cloud interconnection system: you use it! I pay!
2. 0 yuan purchase of production management software
Still spending money to buy production management software? You are OUT! Haixun furniture production management system (ERP-10 job number) is free to use for life! No cost-a cent! Experience the software!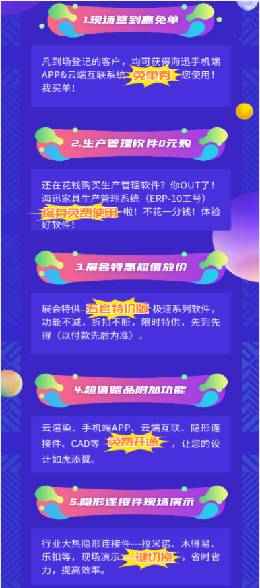 3. Exhibit special offers and value-added prices
Five sets of special edition speed series software are specially provided at the exhibition. The functions are not reduced, the discounts are continuous, and the time is limited, first come first served (first come first served).
4. Additional features for premium gifts
Cloud rendering, mobile phone APP, cloud interconnection, invisible connectors, CAD, etc. are available for free to make your design even more powerful.
5. Live demonstration of invisible connectors
The industry's hottest invisible connectors---Lamino, Mudeyi, LOCK, etc., live demonstrations of two-key switching, saving time and effort, and improving efficiency.